Overview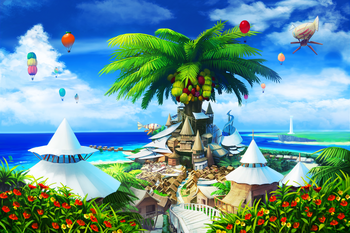 Banana Ocean is located at the south end of Spring Garden, bordered by Koidabana, Lily Wood and Lotus Lake on the north. The nation has work together with Bergamot Valley for the development of air transportation.
Known Locations
World Flower "Banana Ocean" (世界花「バナナオーシャン」)
Rakatan Beach (ラカタンビーチ)
Plátano Beach Resort (リゾート都市プラタノ)
Heos Dense Forest (へーオスの密林)
Two Inscription of Gyavun (ギャヴェンの双子碑文)
Daidai Lighthouse (ダイダイ灯台)
Tiet Pien Island (ティエト・ピィエン島)
Emuon Island (エムオン島)
Flower Knights
Royal Court
Monarch
Royal Maids
Related to Banana Ocean's Royalty
Aristocrats
Citizens
Others
Sunflower
Red Ginger
Anthurium
Hibiscus
Bistort
Mountain Hydrangea
Hydrangea
Gladiolus
Japanese Bellflower
Egyptian Water Lily
Japanese Bindweed
Morning Glory
Moonflower
Rosy Lily
Star Lily
German Iris
Wood Sorrel
Cape Jasmine
Dipladenia
Showy Evening Primrose
Marvel of Peru
Blanket Flower
Apple of Sodom
Lantana
Sandersonia
Chloranthus
Lily
Rain Lily
Tall Stewartia
Hop
Snake Gourd
Texas Bluebell
Belladonna
Green Bell
Coral Bush
Treasure Flower
Plumeria
Kinutasou
Skunk Vine
Thoroughwort
Acanthus
Kiwi Fruit
Ionocidium
Water Dropwort
Pomegranate
Ixora
Cone Flower
Sweet William Catchfly
False Hydrangea
Echeveria
Nightshade
Miltonia
Viburnum
Lemon
Purslane
Cacao
Habranthus
Summer Squash
Sneezeweed
Curcuma
Trivia
Banana Ocean is based on summer season
Community content is available under
CC-BY-SA
unless otherwise noted.