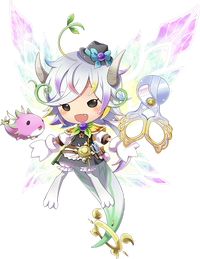 Awakening Dragon: Centy / 覚醒竜 センティ
was implemented on 2018/12/26. It allows players to increase the level cap of any 6 star knight on max level up to level 100.
Knights that aren't 6* can still use Centy after completing Rarity Growth process.
Parameters

One Centy increases the max level by 5 so to increase it from 80 to 100, 4 Centies are needed. Note that you need to level up the knight to their max level after you increase the cap before you can increase it further.
Stats gained after increasing the cap are the same as boost given by 25 ampules of each type for each level cap increase.
Total stat increase at max level
Level
+ HP
+ Attack
+ DEF
85
+750
+250
+100
90
+1500
+500
+200
95
+2250
+750
+300
100
+3000
+1000
+400
Obtaining
At first, the only way to obtain them was Rainbow Medals exchange with a rate 100 Medals : 1 Centy. The price has been later lowered on 2019/1/7 after player's feedback.
Currently, Centy can be exchanged for 25 Rainbow Medals or forged from 100 Petite Centies. Only 20 Centies can be purchased with Rainbow Medals but the amount of Centies you can forge is unlimited.
Petite Centy

Awakening Dragon: Petite Centy / 覚醒竜 プチ・センティ
was implemented on 2019/1/7 as a way to get normal Centies.
100 Petite Centies can be forged into 1 normal Centy.
They can be only obtained by exchanging various items for them. Full list is shown below.
Where to get Petite Centy
Img
Exchange Currency
Currency Needed
Supply of Centies
Restocks?
Life Crystals
35 for 1 Centy
8
no
75 for 1 Centy
6
yes, every ? days
Bond Crystals
275 for 1 Centy
6
no
550 for 1 Centy
2
yes, every 35 days
Flower Stones
1oo FS for 10 Centies
60
yes, every 14 days with new event
Honor Medals
75 for 1 Centy
8
no
150 for 1 Centy
4
yes, every ? days
Flower Medals
150 for 1 Centy
6
no
(possible increase in supply with Nidhogg rerun)
Img
Exchange Currency
Currency Needed
Supply of Centies
Restock
So far, Flower Stone exchange appears to be the best way to get them in large numbers in relatively short amount of time without using a lot of resources.
Origin
On the one hand, it could be thought that Centy comes from Century (100 years) due to its relation to being able to get characters to level 100. It was originally thought that a Centy would instantly put a character's level cap from 80 to 100 after all.
However, it's also possible that it comes from 剪定 / sentei / pruning. Pruning is where you remove dead, dying, diseased, unnecessary, etc parts of a plant in order to promote its growth. Hence why there are pruning shears near the Centy.
---
Underlined text needs verification.
Community content is available under
CC-BY-SA
unless otherwise noted.