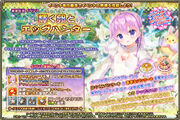 Events are a period of time where a special dungeon is available that allows you to earn unique currency.
About

Each event has a 5 star flower knight that can be earned and fully upgraded without spending any real money. This girl is referred to as the event 5 star girl/flower knight. Events tend to host the appearance of one new 6 star flower knight and three new 5 star flower knights. A Premium Gacha becomes available which increases the rate of the new flower knights appearing if you choose to roll it. The event 5 star does not get featured in this gacha because event 5 star flower knights are not earnable from gacha. 4 star girls released during the event are also not featured in the Selection Gacha.
The usual format that events go through is as follows. Events last for two weeks. During the first week, only the first half of the stages and event prizes are available. During the second week, the second half of the event contents become available. Event currency is earned more efficiently in the newly released content, but the cost of the prizes available for the newly released content is also higher.
Event stages are divided into four difficulties: elementary level (初級), intermediate level (中級), high level (上級), and top level (最上級). There are eight stages total between the first and second halves of the events combined. These stages are referred to as E1 through E8 as shorthand. All event stages can generate Raid Bosses or Secret Gardens, but some event stages have unique Secret Gardens that produce a large amount event currency. A Secret Garden may be referred to as BS as a shorthand for Bonus Stage.
Currency
Each event has its own unique type of currency that can not be used for other events. The currency is earned by crossing over map panels with that currency in event dungeons. How the currency is used depends on the event.
Although events only last for a certain amount of time, those events will eventually return as a republished event (復刻イベント) for a limited time. A republished event lets you replay the event stages. The chests in those stages only drop sealing stones which allow you to earn and fully power up the flower knight that was featured during that event. Other features of the event such as unique raid bosses and gachas will not be available.
Past republished events will eventually return again as a re-republished event (再復刻イベント). A re-republished event is available indefinitely, but the efficiency of earned seal stones is reduced. Seal stones earned from the republished events won't be carried over to the re-republished event.
Types
All events have currency which you can earn from panels in the event stages.
Card Flip events use panel currency to flip cards hiding items.
Gacha events use panel currency to roll an event gacha with a set number of rewards.
Level Up Boss events use panel currency to let you fight turn-limited RBs.
Raid Boss events use panel currency to summon RBs. Fighting and defeating them earns you a different type of currency which can be used to buy things from the Wares.
Swanboat Race events use panel currency to bet on daily races. Winning bets earns you a different currency for buying Wares.
Treasure Rally events use panel currency to move along linear boards full of items.
List of Events
To see only this section, see List of Events.
[View Source] [Edit Data] [?] »Go to re-reprint events
#
Event

Characters

Type
106



一発逆転!水上の大博打
Turning the Tables! The Great Gamble on the Water

Swan Boat Race
105


Sapling Raising
104


Poll
103



湖底を照らす七草の絆
The Bonds of the Seven Herbs that Illuminate the Lake's Bottom

Event Gacha
102



すすめ、新春輸送隊!
Press Onwards, a New Year for the Transportation Group!

Raid Boss
101


Treasure Rally
100


Card Flip
99


Event Gacha
98


Raid Boss
97


Sapling Raising
96


Card Flip
95


Event Gacha
94


Raid Boss
93


Treasure Rally
92


Card Flip
91


Sapling Raising
90


Treasure Rally
89



夏の水面に揺らめく記憶
The Memory That Shakes the Water Surface in Summer

Swan Boat Race
88


Card Flip
87


Raid Boss
86


Event Gacha
85


Card Flip
84


Sapling Raising
83



お花見、様子見、一休み!
Flower-Viewing, Wait-and-See, and a Short Rest!

Treasure Rally
82


Swan Boat Race
81


Card Flip
80


Event Gacha
79


Raid Boss
78


Poll
77


Card Flip
76


Raid Boss
75


Event Gacha
74



波乗れ!常夏クリスマス!
Let's Ride The Waves! Everlasting Summer Christmas

Swan Boat Race
73


Sapling Raising
72


Treasure Rally
71


Card Flip
70



癒しと波乱の温泉街
The Healing and Troubles of the Hot Spring District

Raid Boss
69


Event Gacha
68


Swan Boat Race
67



鬼教官と補習授業
The Demonic Instructor and the Supplementary Lessons

Treasure Rally
66



忍びと迷子と祭り花火
Shinobi, the Missing Girl, and the Festival Fireworks

Card Flip
65


Raid Boss
64


Event Gacha
63


Swan Boat Race
62


Treasure Rally
61


Card Flip
60


Raid Boss
59


Event Gacha
58


Swan Boat Race
57


Treasure Rally
56


Raid Boss
55


Card Flip
54


Event Gacha
53


Swan Boat Race
52


Poll
51


Raid Boss
50



鐘つき餅つき運のツキ!?
Ring the Bells, Pound the Mochi, And You're Out of Luck!?

Card Flip
49


Swan Boat Race
Events after this point are re-reprint events.
48


Event Gacha
47


Level Up Boss
46


Raid Boss
45



谷と紅葉と落ち葉拾い
The Valley, Red Leaves, and Gathering of Fallen Leaves

Card Flip
44


Swan Boat Race
43


Event Gacha
42



色づく世界花の巫女
The Shrine Maidens of The Color Changing World's Flower

Raid Boss
41


Swan Boat Race
40


Level Up Boss
39


Card Flip
38


Swan Boat Race
37


Raid Boss
36



海と花嫁と伝説のブーケ
The Sea, The Bride and The Legend of the Bouquet

Event Gacha
35


Card Flip
34


Trading Area
33


Raid Boss
32


Event Gacha
31


Level Up Boss
30


Trading Area
29



春風に舞う騎士の門出
Departure of the Flower Knight That Dances in the Spring Breeze

Raid Boss
28


Event Gacha
27


Level Up Boss
26


Poll
25


Raid Boss
24


Event Gacha
23


Trading Area
22


Raid Boss
21


Event Gacha
20


Trading Area
19


Raid Boss
18


Event Gacha
17


Currency Acquisition
16


Raid Boss
15


Event Gacha
14


Currency Acquisition
13



真夏にきらめく一滴の想い
The Drop of Desire That Sparkles in the Midsummer

Raid Boss
12


Medal Acquisition
11


Currency Acquisition
10


Trading Area
9



参上!闇夜に舞う花!
I Have Arrived! The Flower That Dances in the Dark Night!

Medal Acquisition
8


Medal Acquisition
7


Poll
6


Raid Boss
5


Medal Acquisition
4


Medal Acquisition
3


Drop
2


Medal Acquisition
1


Medal Acquisition