Welcome to Flower Knight Wikia!


Ongoing Campaigns
Last Updated: Jul 14

- 2.23x Gold earned.
- 1.5 Danchou Experience earned.
- 30% Stamina Cut for Standing Missions, Ultimate Missions, Ultimate Mission Stories, Unique Mission, Ultimate Unique Missions, Nation Missions, Aqua Shadow Missions, Re-reprint Events, Character Quests, Secret Gardens, and all Whaleship Missions.
- Special Quest Campaign: Obtain x3 RG Stone Tickets by completing a new quest each day.
- Special Quest Campaign: Login for 5 days, Do 30 Explorations, Do 50 Raid Boss battles, Use 25 materials in Strengthening Synthesis, and run 30 Current Event stages (event SG does not count) to earn everything.

- Decisive Battle with Earthworm event rewards have been distributed - check your giftbox.
Guides for New Players
Interface
Powering-up Knights
Knights
Equipment
Gameplay
Mission Types
Character & World Information
Other
External Links
Latest Activity
Flower Knight Girl / フラワーナイトガール is a browser RPG where you command a crew of girls based on flowers, called flower knights, to fight pests and protect the world of Spring Garden.
This Wikia is for the original, Japanese version of the game.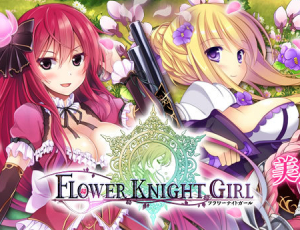 ---
Recent Changes
Following character was added to the Flower Stone and D Medal exchange on Jun 22:



A new category has been added to Rainbow Medal exchange. It allows players to get any released non-limited gacha rainbows up to Jan 20,2020 (Event 131).
Time-limited category was not changed.

Following character was added to time-limited Rainbow Medal exchange on May 18:



Additional pity system has been added to "Added Character Gacha" (追加キャラ) - every 11 draws, player will obtain a reward. These are, in order of draws needed:
11 draws: 40 Skip Tickets
22 draws: 10 Petite Centies
33 draws: 1 Danchou Ticket
44 draws: 20 Petite Centies
55 draws: Featured gold unit
66 draws: 30 Petite Centies
77 draws: 1 Danchou Ticket
88 draws: 40 Petite Centies
99 draws: 6* Kodaibana Skill Flower
110 draws: Featured rainbow unit
Note: Players who rolled this gacha type during event 138 will get rewards corresponding to amount of draws.
---
Community content is available under
CC-BY-SA
unless otherwise noted.