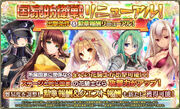 A nation mission / 国家限定任務 is a type of Unique Mission that gives a bonus for flower knights participating in subjugations for their own nation. You can identify what nation a flower knight belongs to by checking their info. Their background will show it. Alternatively, use the Character filter.
Home Nation Bonus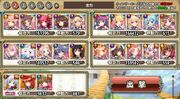 Flower knights participating in subjugations for their home nation will get an attack bonus and you'll earn bond crystals for each flower knight in your own set. Characters of the home nation will be marked with a sword symbol.
Making a Nation-Based Set
Follow these steps to make nation-based set such that each team has balanced overall force.
Old Restrictions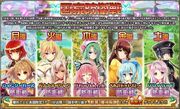 Up until April 16, 2018, nation missions only allowed characters from their own nation to participate in subjugations. This restriction did not apply to helpers. There was no bonus applied such as extra damage or bond crystals. Nation missions were a type of daily mission instead of a unique mission, and they only appeared on these days.
Monday: Winter Rose
Tuesday: Banana Ocean
Thursday: Blossom Hill
Friday: Bergamot Valley
Saturday: Lily Wood
Community content is available under
CC-BY-SA
unless otherwise noted.