A raid boss is a considerably strong pest that can be fought with the assistance of other players. Defeating a raid boss gives rewards which are the same for all participants regardless of how much damage was done. Furthermore, the person who found the raid boss will get an additional reward so long as they participate in fighting the raid boss.
Raid bosses drop equipment gacha seeds. High level raid bosses have more seeds and a chance to drop forge spirits. Raid bosses found from normal stage 9-1 and beyond will give mid-level equipment gacha seeds while high-level equipment seeds can be gained from rare bosses. Event raid bosses usually drop event currency and have a chance to drop many other items.
Encountering Raid Bosses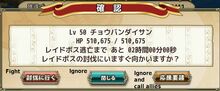 Raid bosses sometimes appear upon clearing a subjugation. You will have the option to go after the raid boss immediately, leave it alone, or invite other players to attack it. Raid bosses will run away if not defeated within a limited time which is usually two hours, but a rare five minute raid boss may also appear.
Raid Boss Screen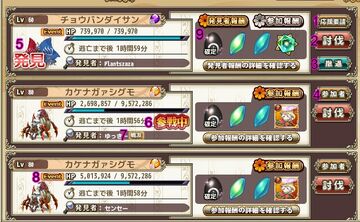 From the home screen, pressing the big red button labeled レイドボス / "Raid Boss" will show you a list of currently sighted raid bosses. The example picture of a raid boss list will have some of its words explained below.
応援要請 / Call for reinforcements: This button allows you to call one of either random players or just your friends to help defeat the raid boss. This option only appears for raid bosses you have personally found.
討伐 / Subjugation: Click this button to fight the raid boss.
撤退 / Retreat: This button deletes the boss from your list without anyone fighting it.
参加者 / Participants: This buttons lets you see a list of all people who fought the raid boss. The player who found the raid boss is included even if s/he did not deal any damage to the raid boss.
発見 / Finding: This means that you have found this raid boss.
参加中 / Currently participating: This means you have already fought this raid boss. In other words, fighting it again does not earn you any more benefits unless you are intent on defeating it.
戦友 / Comrade in Arms: This means that the person who found the raid boss was one of your comrades in arms. Chances are that they only revealed this raid boss to their friends.
Event: This raid boss is an event raid boss, so its dropped items may differ from an ordinary raid boss.
This panel shows the rewards that can be gained by defeating the boss.

発見者報酬 / Finder's Rewards: The left tab is your reward for encountering the boss, if applicable.
参加報酬 / Participant's Rewards: The right tab is the reward that everyone who attacks the boss receives.
確定 / Settlement mark: Guaranteed drops are marked with this text, while other items only have a chance to drop.
The long button under this panel displays the full loot table and amount of each item dropped.
Most raid bosses are very quickly defeated by players. To prevent frustration the game gives you a short window of time to attack a raid boss you can see in this screen even if it is dead.
Fighting a Raid Boss
Fighting a raid boss costs you raid points. Your raid points are shown as the red (available) or black (unavailable) orbs at the top of the main screen. You are given three options for how to attack the raid boss. From left to right, they are as follows:
弱攻撃 / Weak Attack

: Spend one raid point to fight the raid boss at 1x attack power.

通常攻撃 / Ordinary Attack

: Spend two raid points to fight the raid boss at 3x attack power.

全力攻撃 / Full Power Attack

: Spend three raid points to fight the raid boss at 5x attack power.
Raid boss fights have a Skip button that allows you to fast-forward the combat.

Should your team be defeated by the raid boss or you preemptively choose to call for reinforcements, you can choose to simultaneously send the Raid Boss to your friends and other random players or only to your friends.
Descriptions
List of Ordinary Raid Bosses
Appears
Image
Name
Description
E1-E8

Tanehoshiido

(Want Seeds)

タネホシードー

The most common RB. You'll see it a lot when people run Event maps during non-RB events. It's easy to kill it with one raid point.

The low level ones drop equipment gacha seeds instead of mid-level ones, so they should be ignored.

Its name comes from 種欲しい.

1-4

Tri-Three Horn

トライサンボン

Weakest RB. Not worth fighting.
5-8

Kemurukemusu

ケムルケムス

A very weak RB. Not worth fighting.
9-12

Jyoojobachi

ジョオジョバチ

Another very weak RB. It drops mid-level seeds, but there are better things to hunt.
13-16

Sukorusukoviru

スコルスコヴィル

Another very weak RB. Curiously weaker than similarly leveled Tanehoshiidos.
17-20

Fras Frinde

フラス・フリンデ

This RB is one tier above the generic ones you see from Events (Tanehoshiido). It is still simple to defeat with one raid point.

Fras Frinde has a role in the story mode. It guards a bridge in a valley. Its cousins have a thousand-year feud with Naido Ruga and its ancestors.

21-24

Sunei Miiru

スネイ・ミール

Not notable...?
25-28

Retisu Fall

レティス・フォール

RBs drop random items from this tier onwards.
29-32

Naido Ruga

ナイド・ルーガー

A descendent of an ancient pest. Naido Ruga guards the ice lake that encases its ancestor. It is not known why it guards the lake. It eats Fras Frindes that it kills.

Like Fras Frinde, this RB is related to the story.

33-36

Saibis Invader

サイビスインベーダー

Not notable...?
37-40

Jack Reaper

ジャックリーパー

Notable for being the first tier of RB to reach level 200.

41-44

Naido Fragme

ナイド・フラグメ

Likely related to the similar looking, differently named boss pest in story mission 41. That pest spewed a pitch-dark mist that was unusually hot. Whether or not this one has the same power is unknown. Also, it is unknown if it has a relation to Naido Ruga.
45-48

Rage of the Black-Dragon Claw

憤怒ノ黒龍爪

Acts as the heart of the sealed, giant ancient pest in Lake Fuva.
49+

Ka・Aringu

カ・アリング

Its name is a pun on the sport called "curling" and ari / ant.
49+

Shinchoku Doudesuka

シンチョクドウデスカ

Its name is a pun on 進捗どうですか which is "How about we make progress?"
49+

Zetsukou Chou

ゼツコー・チョウ

Its name is a pun on 絶好調 which means to be in perfect fit or perfect form. Like "I'm doing great today!"
List of Special Raid Bosses
Appears
Image
Name
Description
?-40

Tanemochi

(Has Seeds)

タネモチィ

This RB shows up all across the story missions. It is a very rare RB which is only fightable for 5 minutes instead of the usual 2 hours. It has maxed defense, but very low HP. It also provides a huge amount of equipment seeds. Its strength varies depending on where you find it, but it will always be level one.
41+

Tanemochisugi

(Has Too Many Seeds)

タネモチスギィ

This RB has the same properties as its predecessor.
List of Raid Bosses
Some of the following info was gathered from the japanese wiki.
Chapter 1: Thousand-Year Nidhogg †
Stage

RB

Level
Weak
HP
Finder's
Reward
Participant's
Reward
Extra
Rewards
1-1 †
1
1464
2
20
1-2 †
2
1464
3
22
1-3 †
3
1464
4
23
1-4 †
4
1464
5
25
1-5 †
5
1464
6
26
2-1 †
6
1464
7
28
2-2 †
7
1464
8
29
2-3 †
8
1464
9
30
2-4 †
9
1464
10
32
2-5 †
10
1464
11
35
3-1 †
11
2269
12
37
1
30
100
300
3-2 †
12
3440
13
40
3-3 †
13
4612
14
42
3-4 †
14
5783
15
45
3-5 †
15
6954
16
47
1
30
100
300
4-1 †
16
8125
17
50
4-2 †
17
9296
18
52
4-3 †
18
10,468
19
55
1
30
100
300
4-4 †
19
11,639
20
57
4-5 †
20
12,810
21
60
1
30
100
300
5-1 †
21
17,202
22
62
5-2 †
22
21,594
23
65
5-3 †
23
25,986
24
67
5-4 †
24
30,278
25
70
5-5 †
25
34,770
26
72
1
60
100
600
6-1 †
26
39,162
27
75
6-2 †
27
43,554
28
77
6-3 †
28
47,946
29
80
1
60
100
600
6-4 †
29
52,338
30
82
6-5 †
30
56,730
31
85
1
60
100
600
7-1 †
31
64,050
32
87
1
60
100
600
7-2 †
32
71,370
33
90
1
60
100
600
7-3 †
33
72,639
34
92
1
60
100
600
7-4 †
34
86,010
35
95
1
60
100
600
7-5 †
35
93,330
36
97
8-1 †
36
100,650
37
100
1
60
100
600
8-2 †
37
107,970
38
102
1
60
100
600
8-3 †
38
115,290
39
105
1
60
100
600
8-4 †
39
122,610
40
107
8-5 †
40
129,930
41
110
9-1 †
41
151,800
2
20
9-2 †
42
173,850
3
22
1
90
100
200
9-3 †
43
195,810
4
23
9-4 †
44
217,770
5
25
1
90
100
200
9-5 †
45
239,730
6
26
10-1 †
46
261,690
7
28
1
90
100
200
10-2 †
47
283,650
8
29
1
90
100
200
10-3 †
48
305,610
9
30
10-4 †
49
327,570
10
32
10-5 †
50
349,530
11
35
11-1 †
51
495,930
12
37
1
90
100
200
11-2 †
52
497,101
13
40
11-3 †
53
498,272
14
42
1
90
100
200
11-4 †
54
499,444
15
45
1
90
100
200
11-5 †
55
500,615
16
47
12-1 †
56
501,786
17
50
1
90
100
200
12-2 †
57
502,957
18
52
1
90
100
200
12-3 †
58
504,128
19
55
1
90
100
200
12-4 †
59
505,300
20
57
1
90
100
200
12-5 †
60
506,471
21
60
1
90
100
200
13-1 †
61
535,751
63
152
13-2 †
62
565,031
66
159
13-3 †
63
594,311
69
166
13-4 †
64
623,591
72
174
13-5 †
65
652,871
75
182
14-1 †
66
682,151
78
191
1
90
100
200
14-2 †
67
711,431
81
200
14-3 †
68
740,711
85
210
14-4 †
69
769,991
89
220
14-5 †
70
799,271
93
231
15-1 †
71
872,471
97
242
15-2 †
72
945,671
101
254
15-3 †
73
1,018,871
106
266
15-4 †
74
1,092,071
111
279
15-5 †
75
1,165,271
116
292
16-1 †
76
1,238,471
121
306
16-2 †
77
1,311,671
127
321
16-3 †
78
1,384,871
133
337
16-4 †
79
1,458,071
139
353
16-5 †
80
1,531,271
145
370
1
90
150
450
17-1 †
81
1,604,471
152
387
17-2 †
82
1,677,671
159
405
17-3 †
83
1,750,871
166
423
1
90
150
450
17-4 †
84
1,824,071
173
442
17-5 †
85
1,897,271
181
461
1
90
150
450
18-1 †
86
1,970,471
182
463
1
120
200
700
18-2 †
87
2,043,671
183
465
18-3 †
88
2,116,871
184
467
18-4 †
89
2,190,071
186
470
18-5 †
90
2,263,271
188
473
1
120
200
700
19-1 †
91
2,336,471
189
475
19-2 †
92
2,409,671
190
477
1
120
200
700
19-3 †
93
2,482,871
191
479
19-4 †
94
2,556,071
193
482
1
120
200
700
19-5 †
95
2,629,271
195
485
1
120
200
700
20-1 †
96
2,702,471
196
487
1
120
200
700
20-2 †
97
2,775,671
197
498
1
120
200
700
20-3 †
98
2,848,871
198
491
20-4 †
99
2,922,071
200
494
1
120
200
700
20-5 †
100
2,995,271
202
497
1
120
200
700
21-1 †
101
3,068,471
203
499
21-2 †
102
3,141,671
204
501
21-3 †
103
3,214,871
205
503
21-4 †
104
3,288,071
207
506
21-5 †
105
3,361,271
209
509
1
150
250
825
22-1 †
106
3,434,471
210
511
22-2 †
107
3,507,671
211
513
22-3 †
108
3,580,871
212
515
22-4 †
109
3,654,071
214
518
1
150
250
825
22-5 †
110
3,272,271
216
521
23-1 †
111
3,800,471
217
523
23-2 †
112
3,873,671
218
525
23-3 †
113
3,946,871
219
527
1
150
250
825
23-4 †
114
4,020,071
221
530
1
150
250
825
23-5 †
115
4,093,271
223
533
24-1 †
116
4,166,471
224
535
24-2 †
117
4,239,671
225
537
24-3 †
118
4,312,871
226
539
24-4 †
119
4,386,071
228
542
24-5 †
120
4,459,271
230
545
1
150
250
825
25-1 †
121
4,532,471
259
595
25-2 †
122
4,605,671
260
597
1
150
300
950
25-3 †
123
4,678,871
261
599
25-4 †
124
4,752,071
263
602
25-5 †
125
4,825,271
265
605
26-1 †
126
4,898,471
266
607
303 or
26-2 †
127
4,971,671
267
609
305 or
26-3 †
128
5,004,871
268
611
307 or
26-4 †
129
5,118,071
270
614
26-5 †
130
5,191,271
272
617
27-1 †
131
5,264,471
273
615
27-2 †
132
5,337,671
274
617
27-3 †
133
5,410,871
275
619
27-4 †
134
5,484,071
277
622
27-5 †
135
5,557,271
279
625
28-1 †
136
5,630,471
278
624
28-2 †
137
5,703,671
279
626
28-3 †
138
5,776,871
278
628
28-4 †
139
5,850,071
280
631
28-5 †
140
5,923,271
282
641
1
150
300
950
29-1 †
141
5,996,471
287
643
29-2 †
142
6,069,671
288
645
29-3 †
143
6,142,871
289
647
1
150
300
950
29-4 †
144
6,216,071
291
650
29-5 †
145
6,289,271
293
653
1
150
300
950
30-1 †
146
6,362,471
294
655
30-2 †
147
6,435,671
295
657
30-3 †
148
6,508,871
296
659
30-4 †
149
6,582,071
298
662
30-5 †
150
6,655,271
300
665
31-1 †
151
6,728,471
301
667
1
150
300
950
31-2 †
152
6,801,671
302
669
31-3 †
153
6,874,871
303
671
1
150
300
950
31-4 †
154
6,948,071
305
674
31-5 †
155
7,021,271
307
677
32-1 †
156
7,094,471
308
679
1
150
300
950
32-2 †
157
7,167,671
309
681
32-3 †
158
7,240,871
310
683
32-4 †
159
7,314,071
312
686
32-5 †
160
7,387,271
314
689
1
150
300
950
33-1 †
161
7,460,471
315
691
33-2 †
162
7,533,671
316
693
33-3 †
163
7,606,871
317
695
33-4 †
164
7,680,071
319
698
33-5 †
165
7,753,271
321
701
34-1 †
166
7,826,471
322
703
34-2 †
167
7,899,671
323
705
34-3 †