Ultimate Unique Missions (特殊極限任務) are a Unique Mission Type that is considerably hard and does not allow the use of helpers. They can be accessed from the Missions tab. Like other Unique Missions, you can get honor medals from beating them. The main appeal of these stages is that the first full clear of each mission gives you either x10oo or x15oo Flower Stones. During a stamina cut campaign, some players run these stages efficiently as one way to farm for Ampules.
Strategy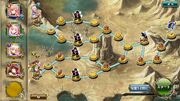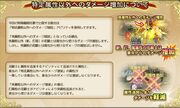 Typical stage layouts make it so that each of your four teams will fight some pests on their own, and then converge later. The boss at the end is harder than the enemies leading up to it. A common strategy for farming is to use one party to kill everything in their way, and another party that is too slow to participate in any fights. This lets you gather all chests with minimal fighting.
In Stage #3, pests will have an ability that makes them take less damage from flower knights that don't have matching attributes. For example, a Slash attribute pest would take less damage from all the other types. Abilities that add attributes to allow a flower knight to hit the weak point will not actually allow them to get the damage bonus.
In Stages #4 to #9, the maps focus on select attributes. The bosses at the end are weak to two different attributes. If a flower knight is capable of hitting multiple weaknesses with the assistance of attribute-adding abilities, the damage multiplier will be the same as though just one weakness was hit.
In Stages #10 and #11, all enemies in the map will have one attribute type that they are weak to. As a result, having units that can hit the weak spot of that particular type is crucial. Furthermore, the layout differs from the other stages because there are two pests fights before the boss instead of four. This means that each individual battle in Stages #10 and #11 is much harder than battles in previous stages.
Stage Overview
This list goes top-to-bottom just like in-game.
#
Japanese Name
Stamina
Cost
Overall
Force
Notes
11

不毛の地に集う脅威と対峙せよ!

100
655k
Pierce
10

荒廃せし地に巣食う脅威と対峙せよ!

100
650k
Slice
9

渇き花より飛来せし脅威と対峙せよ!

100
640k
Blunt/Pierce
8

侵されし国境へ迫る脅威と対峙せよ!

100
640k
Slash/Magic
7

滅びし都に潜む脅威と対峙せよ!

100
640k
Blunt/Magic
6

枯れた地を闊歩する脅威と対峙せよ!

100
640k
Slash/Pierce
5

交易路跡を襲撃せし脅威と対峙せよ!

100
640k
Pierce/Magic
4

都市廃墟の脅威と対峙せよ!

100
640k
Slash/Blunt
3

英断の滝に座す脅威と対峙せよ!

100
640k
2

防衛基地跡に潜む脅威と対峙せよ!

100
620k
1

コダイバナの脅威と対峙せよ!

90
600k
Prison Island

Ultimate Unique Mission - Side: Prison Island (side.監獄島) is a chapter consisting of just three stages, each referred to as a 'Scene'. These stages are completely separate from the regular Ultimate Unique Missions and are significantly more difficult. The final stage, Scene.3, has you fight against the final boss of the island: The Mother. The missions themselves do not have any story cutscenes, however they take place in an area called 'Prison Island'. This island is explored and expanded on much more extensively in the following stories:
Stage Overview
Japanese Name
Stamina
Cost
Overall
Force
Full Clear Rewards
Scene.3 監獄の母の追憶
120
700K
x15oo FS + Mother Medal
Scene.2 監獄の底の追憶
120
680K
x10oo FS
Scene.1 監獄の地の追憶
120
670k
x10oo FS
Sage Laeva

Ultimate Unique Mission - Featuring: Sage Laeva (feat.賢人ラエヴァ) is a chapter consisting of a just single stage, the most difficult stage of all Ultimate Unique Missions. It includes three separate battles, each of which involves fighting the Sage Laeva while they are accompanied by one or more Aqua Shadows. Beating this incredibly difficult stage will reward the player with x15oo Flower Stones and a unique Bracelet.