Hurry! There is only 1 day left!
 The Christmas Party  event is coming to an end! Prepare your flower knights for a ton of farming, as there isn't much time to do so!
New to the event and want to buy merchandise?
Go to the shop and it should be the first screen to the left.
Don't forget to buy Skimia while you can!
Having trouble with the event?
Look to the bottom right (next to the rewards) and there are the stamina and power requirements. It should look like this: (power requirement in red)


To find your power, look on the home screen
It will look like this: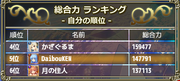 Further Notes
Ask any questions about the event here and any answers will be posted in bold.  This blog post was based as a notice and a QnA for players having trouble with the event.
Community content is available under
CC-BY-SA
unless otherwise noted.